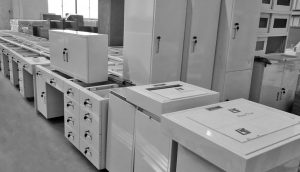 Jingyin Minsun Marine Technology Co. Ltd is specialized in the manufacturing and exporting of marine accommodation system,cabin furniture,aluminum furniture,steel furniture,kitchen appliances,marine parts etc.
To guarantee good quality, we follow ISO9000 standards to inspect our goods. From raw material purchase to pre-shipment inspection, we keep an eye on every step to ensure the satisfaction of our customer on quality. Our products are approved by ABS, BV, CCS, DNV, EC, GL, KR, LR, NK and RINA.
Persisting in the principle of "QUALITY IS LIFE, CUSTOMER IS GOD", we'll strive for high efficiency, passion, integrity to provide our customers with high quality products and superior trade services.
Marine Supply Requirements
1.Marine furniture manufacturing and design requirements
The main differences between marine furniture and residential furniture are the different requirements of fire proof safety,and the ship furniture needs to be fixed, the higher requirements of manufacturing and design for the vessel furniture. In general marine furniture has strict requirements for fire, so the marine furniture puts forward higher demands in painting, panel.When ship sailing, marine interior furniture must be fixed for chair, bunk bed,single,bed side table,writing desk etc on deck.
Related products:marine accommodation,marine interior furniture, aluminum furniture,chair,chart table, bunk bed,single,bed side table,writing desk etc.
Product range:aluminium furniture,aluminium honeycomb furniture(edge:alu U shape profile,PVC strip,wood,and HPL etc), 304 316 316L stainless steel furniture,wooden furniture,pullman bed,ceiling pullman bed etc
Materials:aluminium,aluminium honeycomb panel,the surface can be laminated with PVC or fireproof panel or wood transfer,aluminium profile,plywood,solid wood etc.
2.Wall and ceiling  system:rockwool panel,aluminium honeycomb panel
3.Gallery equipment manufacturing and design requirements
The gallery equipment has a very important role in the ship cabin, it can provide all kinds of food for the crew in time, and the effective supply of food is the precondition for the ship to carry out the task on the sea. The advantages and disadvantages of the kitchen layout affects the efficiency of the food supply, the reasonable layout of the kitchen can improve the efficiency and speed up the food supply.
Related products:Marine electric cooker, oven, marine electric fryer, refrigerator, washing machine, ship kitchen switch, heating pipe fittings etc.
4.Marine lamp and lighting
5.Marine fittings manufacturing and design requirements
Related products:Shaft,rudder system,engine,pressure water tank, air conditioner,air fan,environmental protection products,air pipe head ,valve, pipe fittings ,expansion joints ,pipe fittings ,pump ,valve ,marine cable ,Marine hardware, lights ,Rigging,chart map,pulications etc.